Cheers To Love - Introducing Bernard Maisner for Sasha Nicholas
"I design my stationery to be received and regarded as artwork" - Bernard Maisner for Forbes Magazine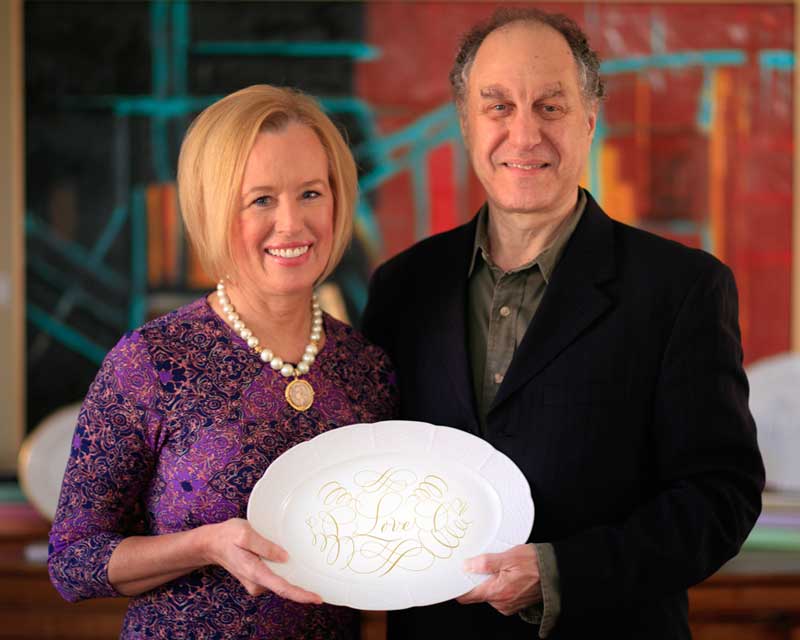 We are thrilled to announce our collaboration with internationally renowned master calligrapher & stationer, Bernard Maisner. Bernard's unique and gorgeously flourished calligraphy has been commissioned by a long list of famous clients including Elton John & Oprah. He is also frequently sited at Bergdorf Goodman creating his detailed designs.
Our Bernard Maisner for Sasha Nicholas select pieces are crafted from the finest European porcelain and hand decorated with his calligraphy creations that he created exclusively for this collaboration. Click here to see the Bernard Maisner Sasha Nicholas collection available now. Also, personalize your piece by adding a custom message on the back or bottom.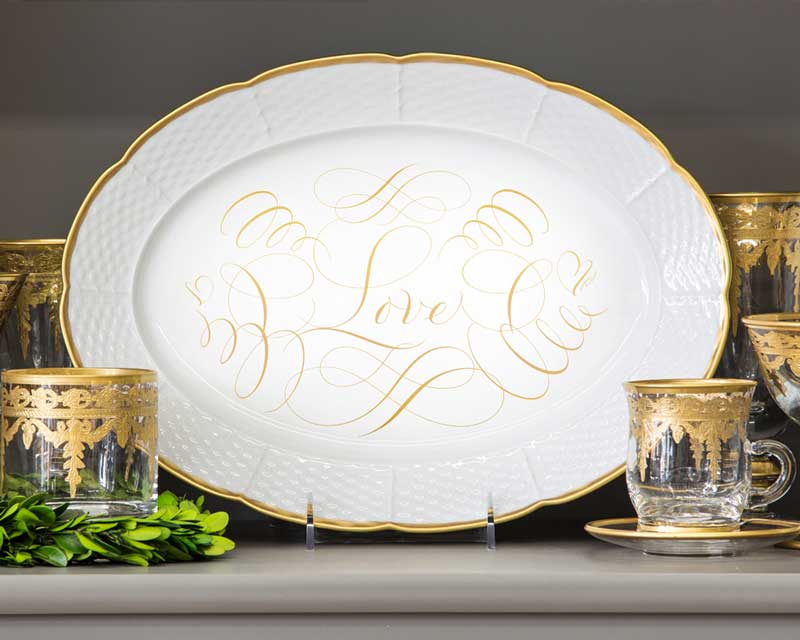 About The Artist: "Bernard Maisner is an internationally renowned master calligrapher and stationer. His name is synonymous with luxury and the most high-profile society events and special occasions. With more than 30 years experience, Maisner's custom calligraphy is instantly recognizable and his stationery sets are unparalleled worldwide."
How He Began: "His interest in lettering began early, while he was still in grade school. Initially self-taught, Maisner began doing traditional italic and gothic lettering that he copied out of books.
"My father would come home with papers and inks and encourage me to practice," he says of those first attempts at what would eventually become a focal point of his career."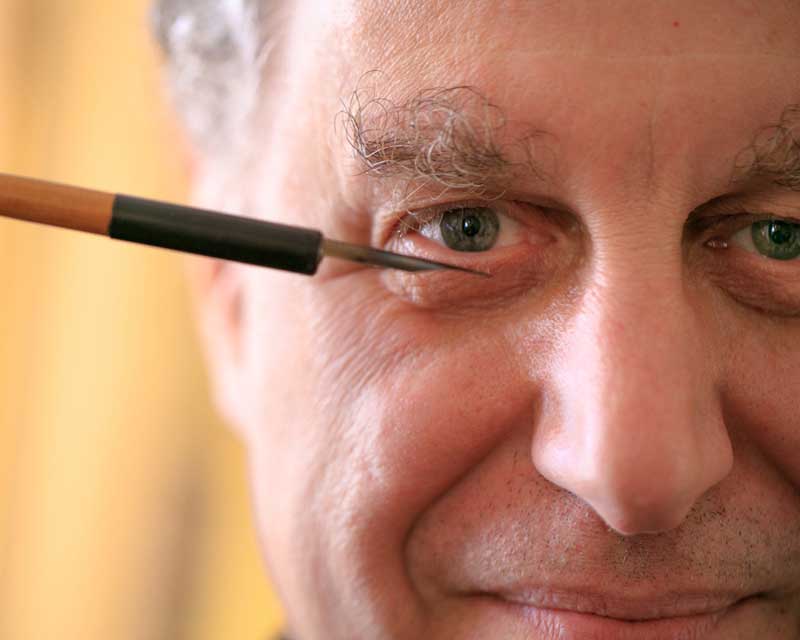 The Artist Today & His Work: "Maisner is a contemporary artist whose paintings are exhibited in galleries and museums. He brings his talents as an artist to all aspects of stationery. The signature Maisner Script is a masterful modernized blend of Spencerian and Copperplate writing with intricate flourishes and beautiful letterforms. His International Collection of Italian, French and Americana lettering styles infuse elements of writing from different countries and eras; the Italian style was originally created for the fashion designer Valentino.
In 2000, Maisner began his foray into social calligraphy, creating elaborately embellished styles of writing for wedding stationery, party and event invitations, place cards, custom menu cards, and personal stationery. Hailed by W magazine as "the New York calligrapher" and by Town & Country Weddings as a "renowned virtuoso," he set a new and entirely unique standard for the world of social stationery and calligraphy."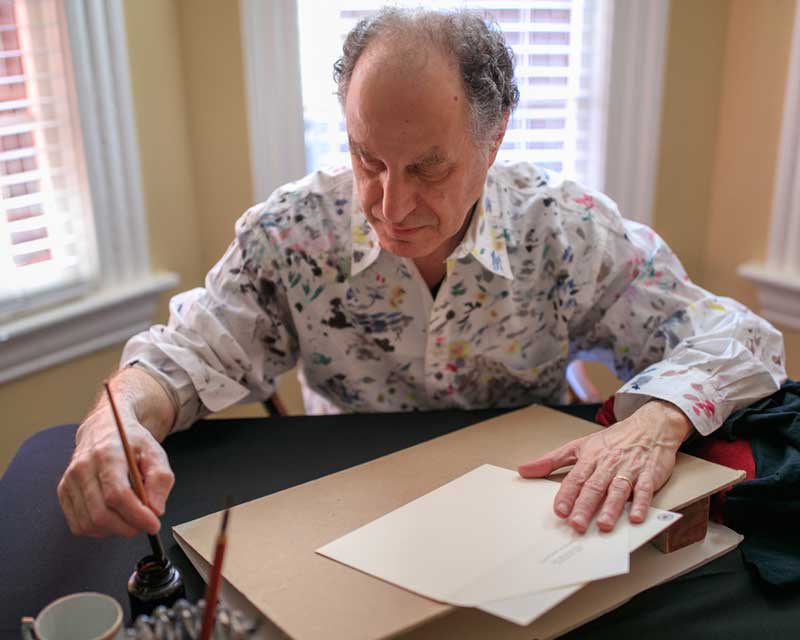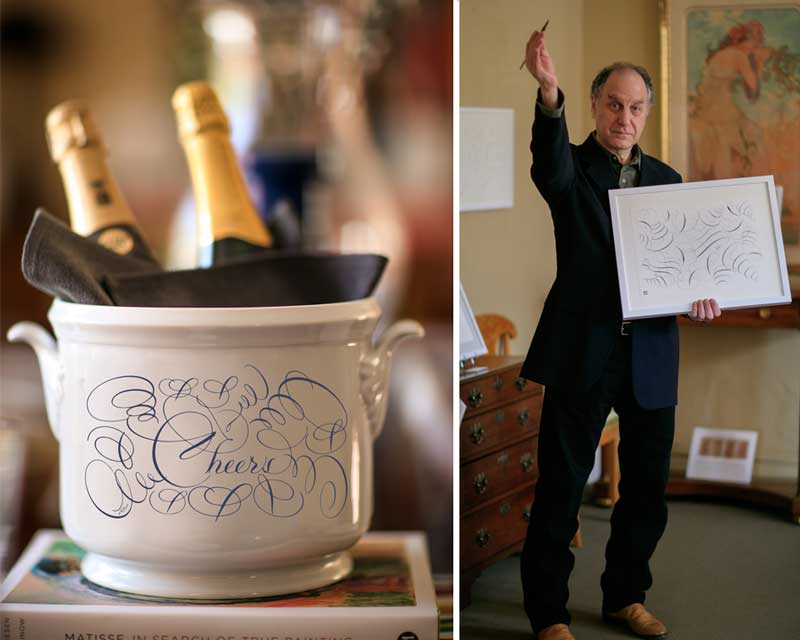 Bernard Maisner for Sasha Nicholas custom monogrammed Cheers Champagne Bucket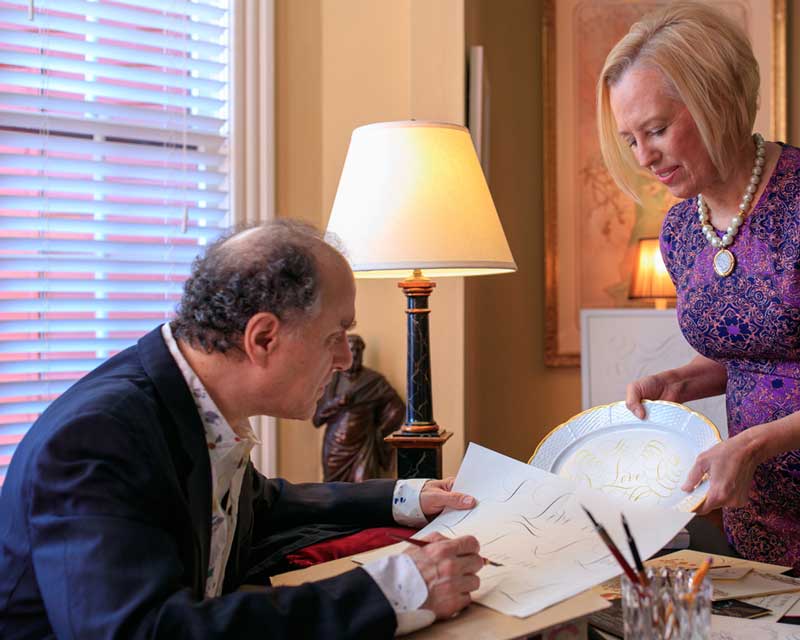 It was an honor and a privilege to not only meet Bernard and see him create his beautiful hand drawn works of art in person, but to have him create these one of kind designs just for our Sasha Nicholas pieces. They make an incredible gift for any occasion as these pieces will only be available for a limited time. Truly personalize your piece by adding a message on the back or bottom. To see all of the Bernard Maisner for Sasha Nicholas pieces available click HERE - to learn more about Bernard click HERE to visit his website.
Meaningful Wishes,