Heirloom China & The Modern Monogram - The Vintage China Revival with Elizabeth Walden
"These happy sentiments will all be told when we gather around the dishes they all used, too. I can only hope that anyone who is a guest in our home feels my love and effort when they sit down at the table"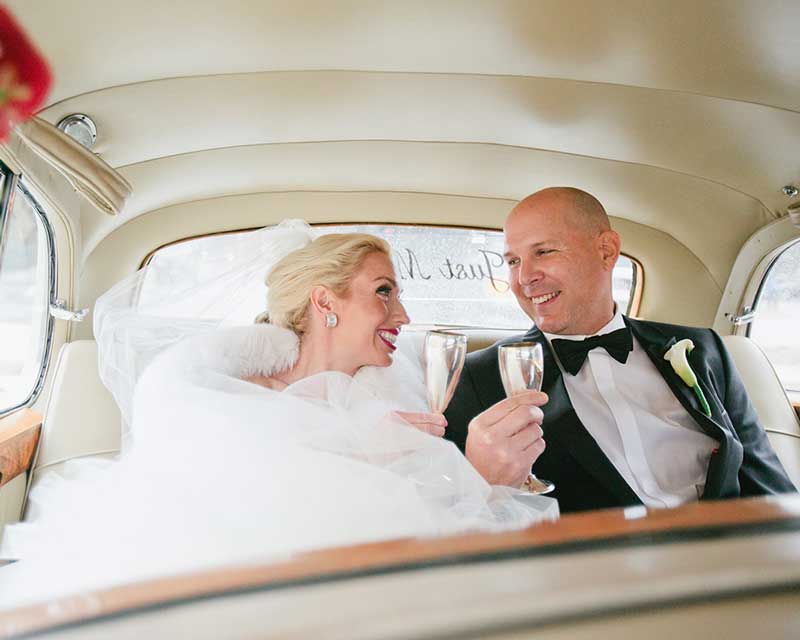 Receiving your family's heirloom china may leave you with a bit of mixed emotions. You may be feel sentimental that you can now pass them along to your own children, and those pieces can continue down through the generations. You may also feel overwhelmed because how do you incorporate these unique pieces into your everyday life to avoid them being stored in a closet forever.
For anyone that has inherited family china knows one of the most commonly asked questions is how do you take these vintage pieces and mix them with your modern style? The good news is that it is easier than you think and many of our brides that register choose their pieces with this sentiment in mind.
One of our recent brides, Elizabeth Walden, who after inheriting her family's china chose her registry pieces to coordinate with those timeless heirlooms. She shares her advice on the registering process for future couples, and how to use those family pieces in a modern way.
1. What was the inspiration for your Sasha Nicholas Registry?
I came across Sasha Nicholas on Instagram by happenstance. What caught my eye was a post with the signature champagne bucket filled with flowers; it was bright and cheerful and exactly how I want my home to feel. That really anchored my registry style. And what makes a home happier than flowers and champagne?! Once I started looking at the other hostess-ware, it tied in perfectly with my great grandmother's china pattern.
2. What does it mean to you to be able to have and use your great grandmother's china?
These are pieces that have been passed down for four generations. I love having a tangible memory of my great grandma, my grandma and my mom in our home. They have all passed away. What each of them exemplified, was their unwavering dedication and love for family. Symbolized in the dishes, was that meal times were about togetherness. Togetherness was meant to be celebrated and cherished. It didn't have to be a special occasion or any pretense to use the china - it was about making people comfortable and anyone who came into our home feel like the guest of honor. My family fondly recounts my grandma's catch phrase of, "Who better than you!" It was a quip that summarized there was no other person in the world more important than the loved one in front of her. Each of these women made entertaining look so effortless, because all their energy was really channeled into being present with the family. They all had their own way of making you feel so special and loved. I think they could have used paper plates and made anything special, but thoughtfulness and effort trumped 'the easy route' always.
3. What advice can you offer other brides who are trying to incorporate their heirloom china with their registry choices?
Don't be afraid to use it - it is meant to be enjoyed! Heirlooms should be a celebration of traditions and remembering the generations before us. It brings me great joy thinking about my ancestors as young newlyweds. Sometimes china can fall into a category of "it's too fancy" or "I don't want to break it" or "that's a thing of the past." I would say use it and enjoy it, keep it part of your family tapestry. I have a set of twelve things and a set of eleven for others. Accidents happen, things break, but don't have that come at a cost of breaking tradition. Honestly, I use the our monogrammed hostess bowl for M&M's. It doesn't have to be used for caviar, just things you enjoy!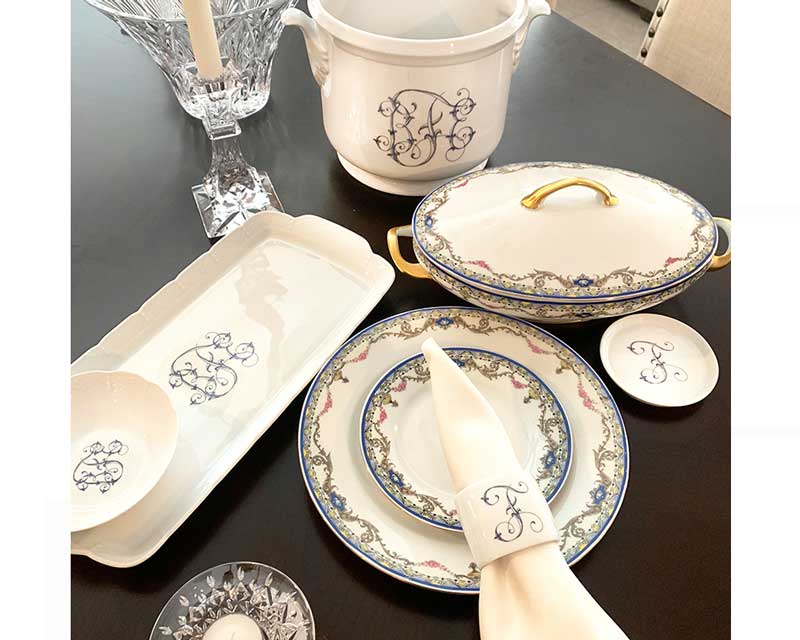 4. Why do you think it is important to register for china? How did you decide what color/monogram style to choose for your pieces?
Entertaining has changed a lot in recent generations. There is a balance between keeping hostessing practical, but also special. It is truly an art to thoughtfully bring people together. However, that's done, I think it's important to have the pieces that makes it easy to invite people over and focus on being together. I happen to love cooking and preparing the house for meals, so having those heirloom pieces mean a lot to me. I love how the dark blue script picked up the blue and rose tones of the china pattern. In the full spread setting, it is beautiful to see a balance of Brian and I mixed with heirloom pieces. Looking back, I do think I got the monogram backwards. I put Brian's initial first and mine second. I would like to think that my thought process was, "I will always put him first." Since he does that for me, I will think of that as a happy mistake!
5. What Sasha Nicholas registry piece/gift would you recommend as a "must" to other couples? Or which piece has been your favorite to receive and use?
All the pieces are so lovely, but I would advise the champagne bucket. Maybe even register for two! It is the perfect size for your bar area, but also for an elegant centerpiece. Even if you don't have a lot of counter space or you like having things put "away" like me, this is one of those items that can be as decoration, as much as it is useful. I would also recommend giving the person who is gifting your items the opportunity to write their own inscription. I love that we have a sweet message as a reminder of the people who celebrated with us on each piece. That is yet, another thoughtful detail Sasha Nicholas offers.
6. What advice can you offer brides who are beginning their registry with Sasha Nicholas?
There is no "one size fits all" registry. I think that is so important to remember in general. What is important to one couple, may not matter to another. And I specifically say couple, because it is important to register as a team! Brian had some great input for things I didn't think about. Also, be mindful how you like to entertain. If family style around the kitchen is your vibe, get multiple platters. If a seated place setting is what you envision, the napkin rings are such a personal touch to your setting. You will enjoy your registry gifts so much more when you have things that you will genuinely use, not that you think you should have.
7. What are you looking forward to for future uses for your heirloom and monogrammed china?
Brian and I do not live near our families, which is so hard. But this holiday season we are expecting our first baby and cannot wait to have our loved ones visit! Our entertaining pieces will be used with great joy for celebrating our baby, our first newlywed holiday season, and having our families in our new home. 2019 has been a big year for us! Meeting Brian was everything I ever wanted in life and so many other amazing milestones came from marrying him. I look forward to telling my children the stories of my great grandma, who had an insatiable sweet tooth, my grandma's infectious sense of humor and the magnetic sparkle of my mom's love that can never be dimmed, no matter how many years go by. These happy sentiments will all be told when we gather around the dishes they all used, too. I can only hope that anyone who is a guest in our home feels my love and effort when they sit down at the table, "Who better than you!"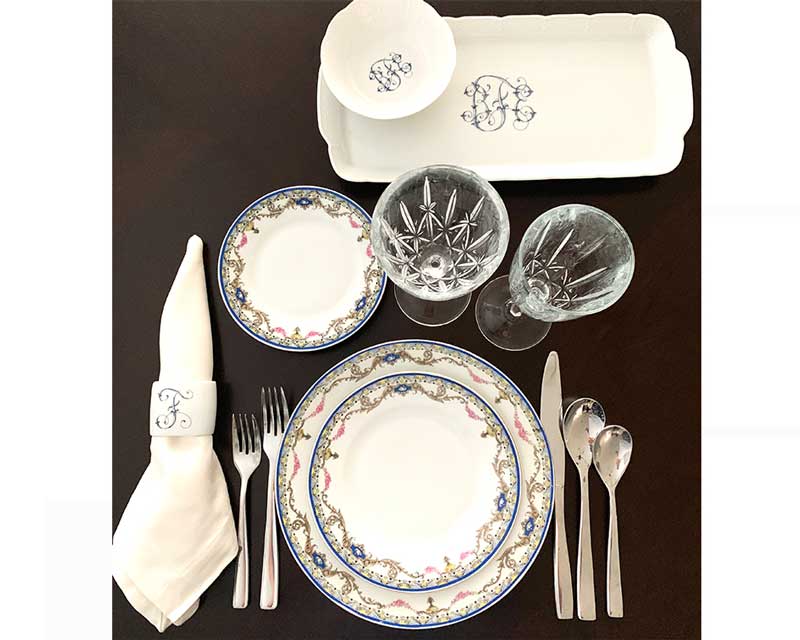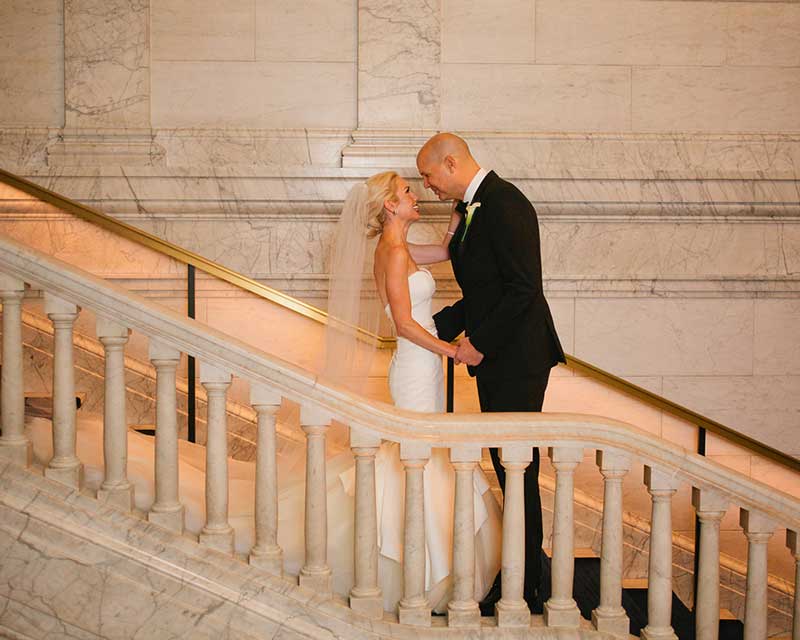 Do you have vintage china that you would like to incorporate into your everyday? Let us help you with our personalized table styling and wedding registry assistance. Contact us today for more information and see the rest of our Registry & Table Talk blogs for more inspiration and ideas.
Meaningful Wishes,