Lonestar Southern Bridal Collection - Lisi Lerch, Giddy Paperie & Sasha Nicholas
"Trust and love are wonderful, but don't forget the earrings." – Estee Lauder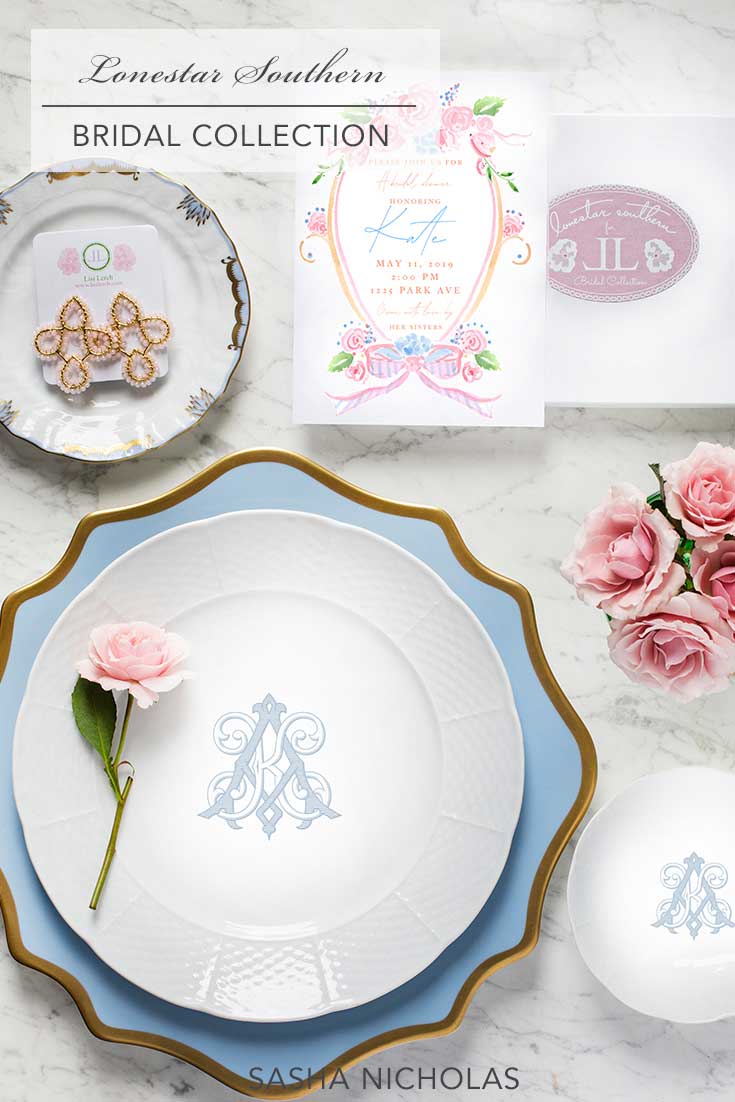 We are thrilled to partner with Lisi Lerch and Giddy Paperie to celebrate the launch of the new Lisi Lerch Lonestar Southern Bridal Collection. This collection created by Kate Bowman from the popular Lonestar Southern blog keeps Lisi Lerch's "bold yet classic, colorful and sophisticated" style while incorporating her take on that to create timeless pieces that can be worn by almost anyone.
For our styled shoot we incorporated two styles from the collection, The Martha & The Madeley with an array of our custom monogrammed pieces featuring Kate & Andrew's custom monogram designed by Shuler Studios, accompanied by the gorgeous bridal shower invitation created by Giddy Paperie.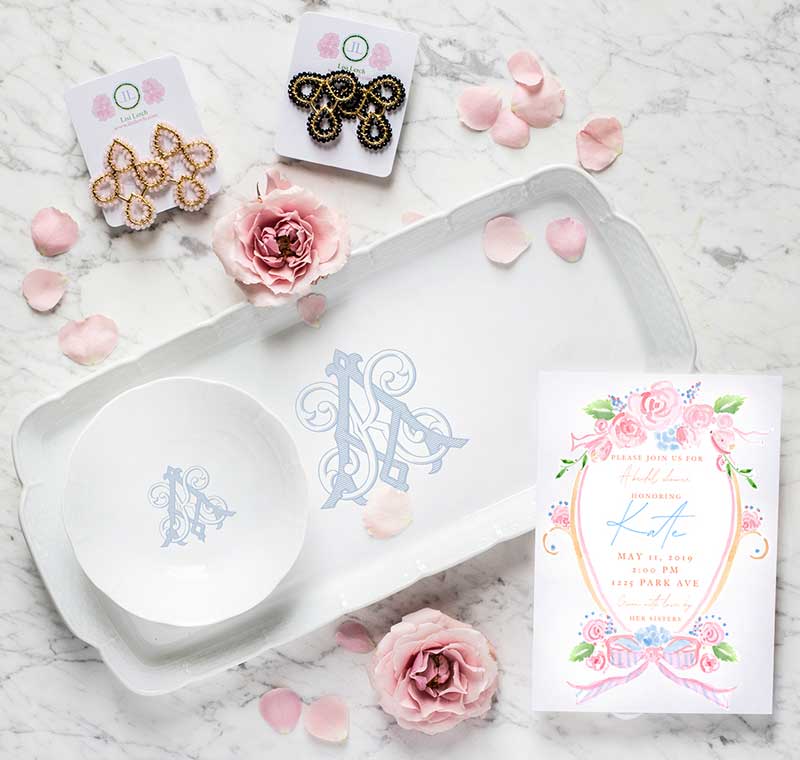 The creator of the fashion & lifestyle blog Lonestar Southern, Kate, describes in her blog how this collection came about and also her inspiration for the designs and the names behind each piece. "I have been a Lisi Lerch fan for years now." "Needless to say, when they reached out to gage my interest in designing a pair of earrings for my bridesmaids to wear, I couldn't contain my excitement!"
As Kate was preparing for her own wedding, these pieces were created with that in mind designing pieces that bridesmaids, the mother of the bride, or even the bride herself could wear. Also versatile enough that it can be worn everyday after the wedding as well.
"Inspired by the well-known Lisi Lerch silhouette, I set out to design a pair of earrings that would make a timeless, tasteful statement for my twelve bridesmaids. I had a few different ideas, and as I began to sketch them out on paper… I realized a whole collection was coming to life!"
To make the collection even more special, she named each piece in the collection after someone meaningiful in her life like her grandmother along with a beautiful story about each piece.
Click HERE to read the Lonestar Southern blog about her collection and the stories behind each piece.
We were honored and thrilled that Kate chose to create her wedding registry with us. We handmade all of her new china dinnerware & serving pieces with her gorgeous custom monogram designed by the talented Shuler Studios. Being a Dallas girl herself, she registered from our favorite store in the city Ivy House for all of her Sasha Nicholas pieces.
Planning an upcoming wedding and need help with creating your own wedding registry? Contact us today for our personalized wedding registry service. Need registry inspiration or ideas? Click HERE to see our Sasha Nicholas Registry Suites™ - curated collections based on your individual style with all your registry needs.
Meaningful Wishes,