Sasha Nicholas Greek Collection Launch!
"People ask why I am in a sorority and I try to explain all the things a sorority is that they cannot see. A sorority is more than letters on a sweatshirt, I say. More than traditional songs, a gold pin, rituals, an obligation, or a way of life. A sorority is learning about people, a sorority is giving expecting a return. A sorority is earning respect from others, as well as from yourself. A sorority will not solve all of your problems. But I have made good friends and found confidence there to help me take life one step at a time." - Unknown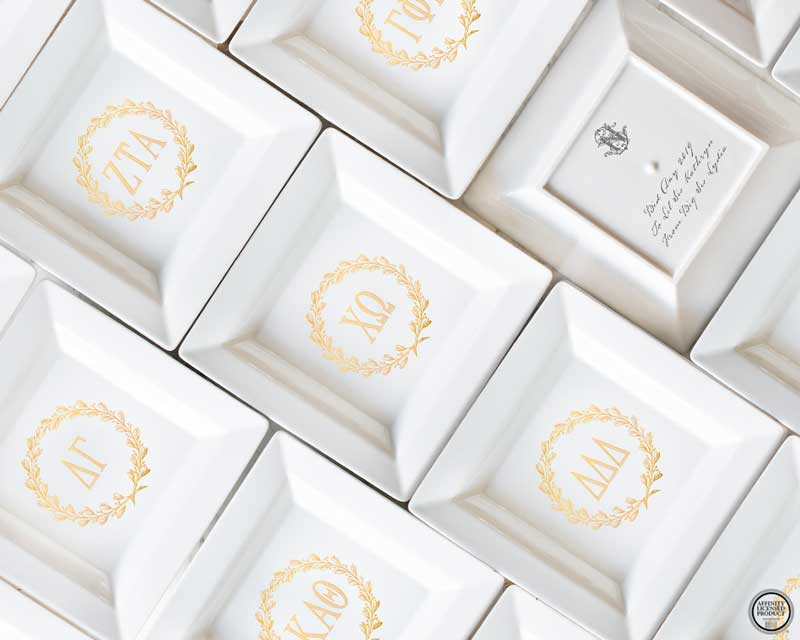 Going away to college many find their home away from home by joining their forever sisterhood. We are thrilled to celebrate by introducing our new officially licensed Sasha Nicholas Greek Collection!
This collection offer our Gold sorority "monogram" on our Sasha Nicholas Tapered Mug, Petite Bowl, Valet Tray & Hostess Platter made from the most exquisite European porcelain, durable for everyday use, oven & dishwasher safe!
Greek Organizations currently available are: Alpha Chi Omega, Alpha Delta Pi, Alpha Omicron Pi, Alpha Phi, Chi Omega, Delta Delta Delta, Delta Gamma, Gamma Phi Beta, Kappa Alpha Theta, Kappa Delta, Kappa Kappa Gamma, & Zeta Tau Alpha

Make your piece even more meaningful by adding your custom inscription to the back of our valet tray & hostess platter (a handwritten option is available), the perfect keepsake gift to receive on Bid day from Big or Lil Sis, to an upcoming alumni, or for use by your chapter. Adding your organization's symphony or favorite saying on back is one of our favorite ideas. These are timeless pieces that are sure to be enjoyed for generations to come. What a beautiful sentiment to pass on to your own legacy as well!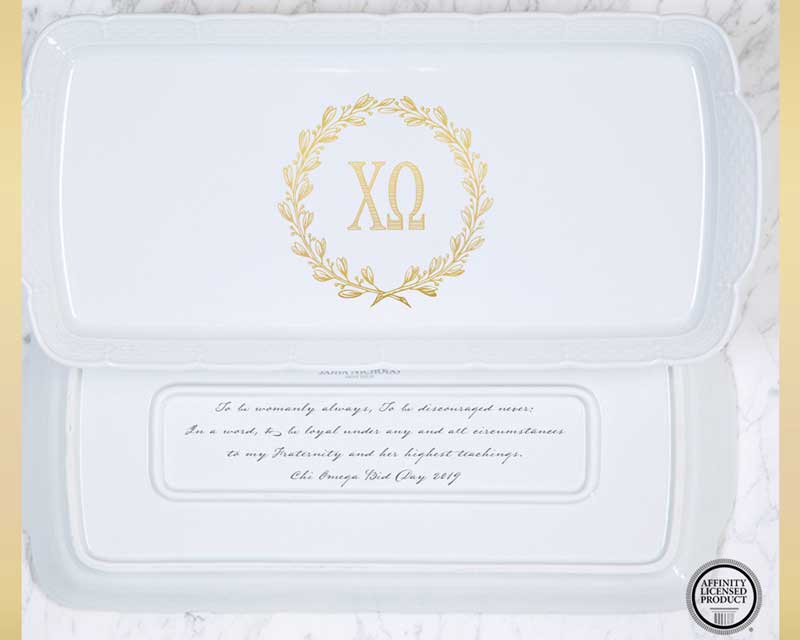 Our entire Greek Collection is now available, click here to choose your organization. Need help ordering? Feel free to contact us for ordering or gift assistance.
CLICK HERE for limited time Sasha Nicholas Greek Collection launch specials only available for a limited time and only once this year - great gift ideas just in time for Rush. Also, portion of the proceeds from each of our officially Licensed Greek pieces goes to your sorority organization.
Meaningful Wishes,