Current Registry Favorites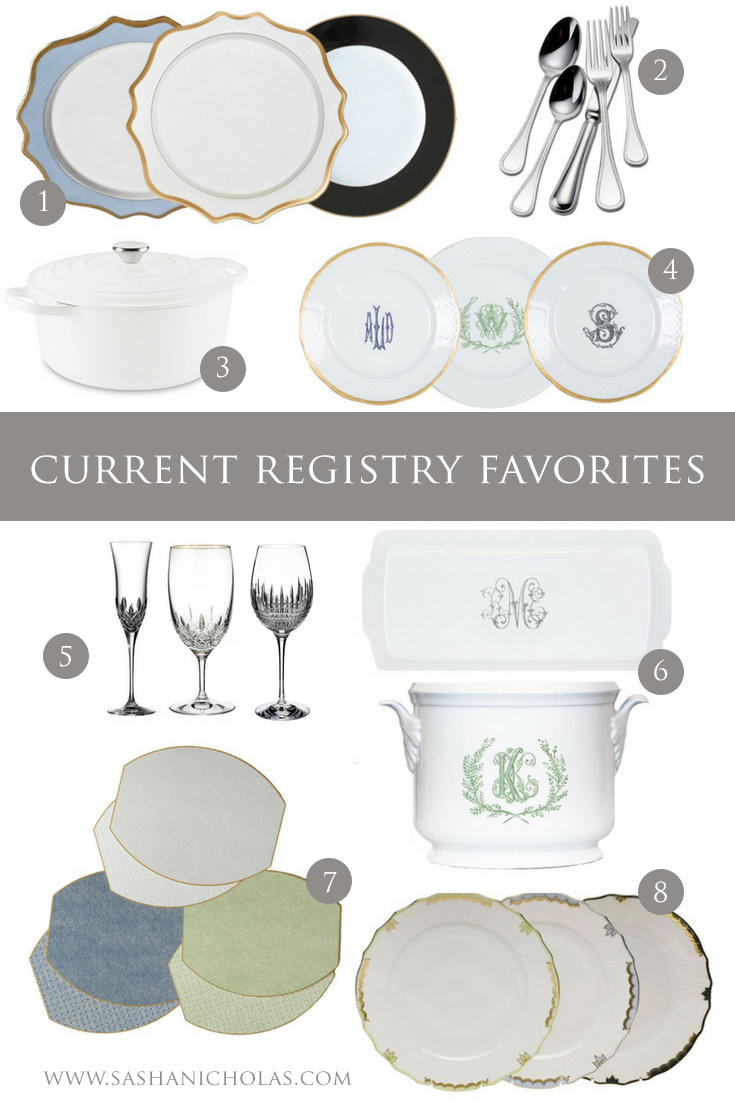 Deciding what items to register for can be a difficult decision for any couple. There are so many options available that it can be hard to know exactly what key pieces are necessary. You want to have a perfect balance of items that are practical but also reflect your personal style. Fortunately, we at Sasha Nicholas love the opportunity and the challenge to help create that perfect registry. Though we have many registry necessities, the items pictured above are our Current Registry Favorites.
Table Top Trends
Anna Weatherly Chargers (1) sky blue with gold, white with gold, and black with gold

Le Perle Silver Plated Flatware Setting (2) 5 Piece Setting
Lecreuset Saucepan (3) multiple sizes available
Sasha Nicholas Salad Plates (4) custom monogram available - white weave and gold plated weave
Drinkware (5) Waterford Lismore Essence Flutes, Gold Rimmed, Goblets
Entertaining Essentials

Sasha Nicholas Champagne Bucket (6 bottom) custom monogram available
Sasha Nicholas Hostess Platter (6) custom monogram available
Placemats (7) Holly Stuart, Set of 4 Platinum, Navy, and Saxon Green
Herend Dinner Plates (8) Princess Victoria Green, Light Blue and Black
All of these Current Registry Favorites are all available at www.sashanicholas.com or stop by our boutique (9752 Clayton Road - Saint Louis, M0 63124) to see them and so much more. Need help? Make an appointment and let one our our Registry Specialists assist you on how to create the perfect tablescape and see what are registry must haves. Make sure to check back to our blog, Sasha Nicholas Lifestyle, to see our continuing Current Registry Favorites.
Also see our 4 Core Essentials blog about what we think is the most important items to add to your registry. If you need further assistance, or for any other inquiries, please email us at orders@sashanicholas.com or call us 888-877-5230
Meaningful Wishes,